I have fallen behind on my posts for SOLC 2015 in the last few days and I realized how much I've missed my writing time each night.  So I am catching up with some thoughts I've had over the last few days.
SOLC Post #5
#magical moment
As I was checking in with Twitter on Wednesday night and I saw many TCRWP #magicalmoment posts, I thought "How is it possible that the day a truly magical moment happened, Twitter was overflowing with magical moment posts?"  Magical moments happen frequently with students but this day, it was a BIG moment!
My magical moment was the incredible, thoughtful conversation that occurred during a read aloud of Chapter 1 of I am Malala to 5th graders.  Conversations about freedoms we are afforded her in the U.S. and our bill of rights, comparisons of democracy and dictatorships and the great love that parents have for their children.  This was all a result of Chapter 1! It truly was magical!  It was a breakthrough! I am full of excitement to begin the next chapter and experience the wonderful conversations that I feel await us.
SOLC Post #6
Breaking down walls…
Today was a day where I felt like a few walls came down.  I shared my blog with a group of students I'm working with and read my #LOL post as well as the poem I wrote to them- "I Care".  It was a little strange sharing these thoughts out loud to them but I felt compelled to do so.  I told them how much I really do care… ABOUT THEM.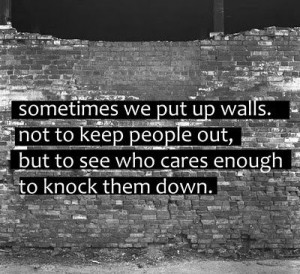 SOLC Post #7 
REFRESHED!
It is the day before our Spring Break and I am feeling refreshed which is the how I always feel when I am with my coach colleagues on our professional development days.  I was only able to attend the afternoon session today but what a great session it was today. We sketched out plans for our "Curriculum of Talk" (which we learned about from Jennifer Seravallo last week) for Grades K-5.  Before we started we watched and debriefed the TCRWP vimeo of the group of 5th graders discussing The Tiger Rising and Bud, Not Buddy. I never tire of this video and I gain something new from watching it.  One of my table mates shared what struck her aas she watched was that when you think skills across the bands of text, they were so clearly evident throughout their conversation and the prep work done before the conversation.  To me, I saw the results of starting this talk in Kindergarten…evidence of the work started young yet you hear those same phrases and questions just at a much higher level of conversation.  "What do you mean by that?", "I think…because…", "I agree with you because…", "This is important because…" That is what is so powerful to me when I watch that video…it was such a huge "A-Ha" for me the first time I saw it and still resonates with me each time I see it.  Talking about books is a beautiful thing!